For those who dont want to read.....it works.....amazing.
Ive had my Cobra a few years but seldom use it. It has a Whipple 2.9/TH400/Gear Vendors
The first dyno I had done the voltage dropped off below 12. Went and bought a NAPA unit and same ****.
Parked the car for a while then installed the auto, and now I believe I have come up with the ultimate solution for every Cobra owner on the planet.
I knew what I wanted, and how it needed to be designed, and was lucky enough to find Adam at Nations after reading this thread:
https://www.modularfords.com/f17/lost...passes-177604/
I know for a fact that the regulators are the problem in the alternator. They have an overtemp built into them and basically stop producing volts when the temp gets high. I tried the bigger pulley, cooling duct, etc. Nothing worked. Im also convinced the stock unit is not sufficient when you have 3 fuel pumps, trans cooler, yada yada yada. In stock form, maybe.
I knew that externally regulating the voltage would be the necessary fix, but self-researching gave me no difinitive solution....this is where Adam steps in.
I explained all of the problems Cobra owners have, and told him it has to have some more amperage and be externally regulated. Well, after a few days of thinking and a few days building, he shipped me this: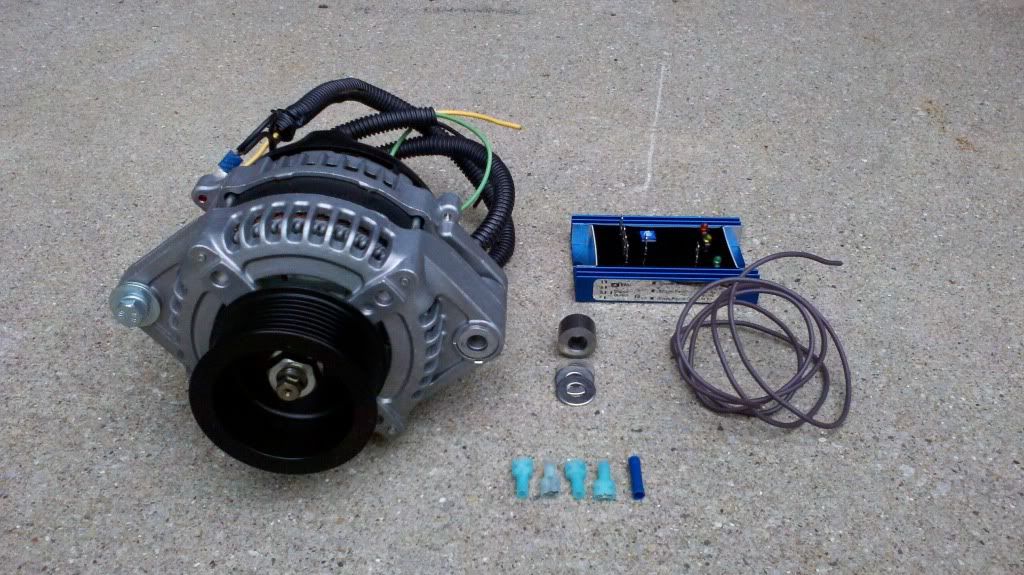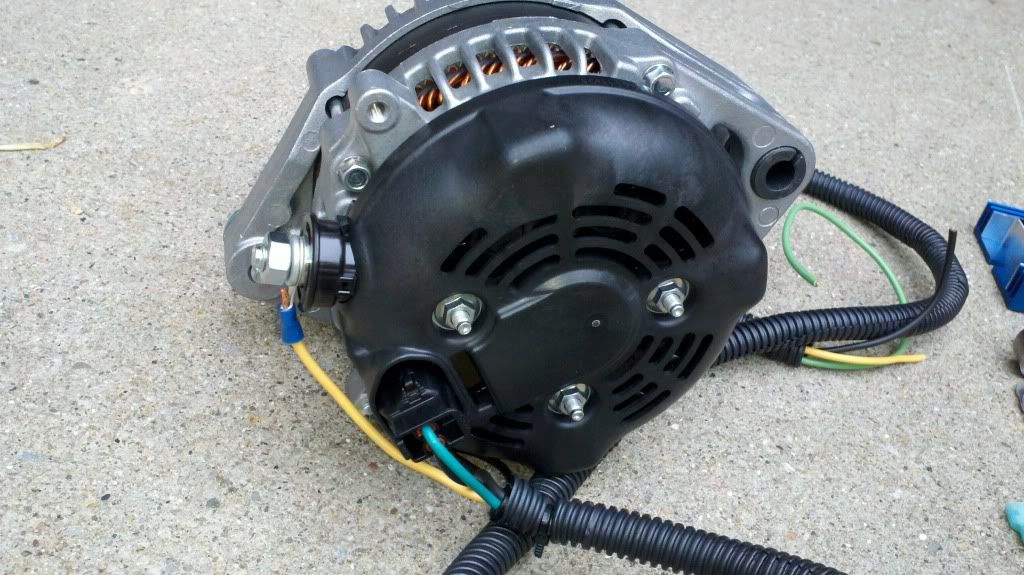 Next to Stock::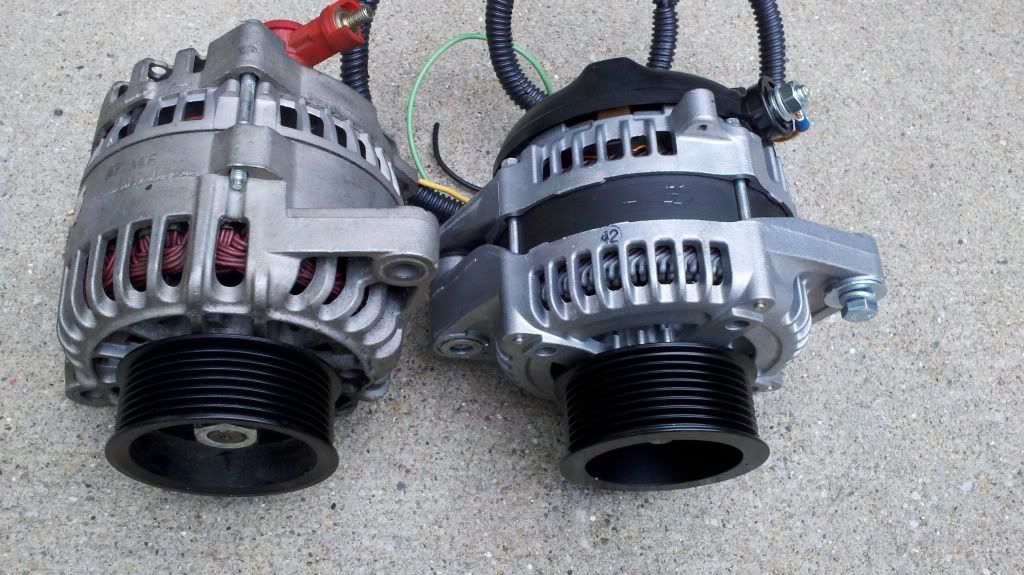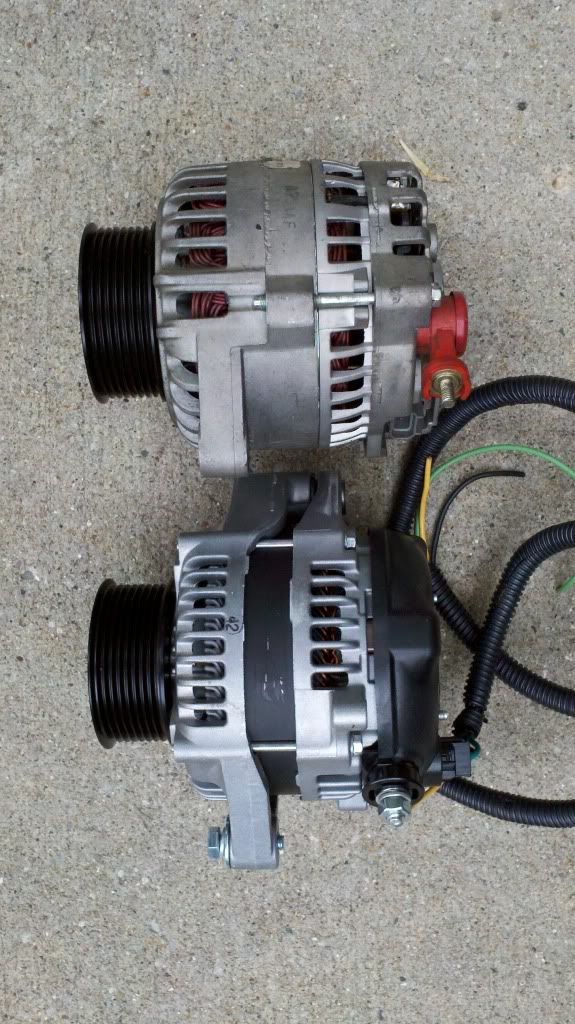 You are looking at a Nippendenso based unit. The front derives from an ambulance, and the rear comes from a Chrysler.
Adam needed to use the Chrysler rear because that is the only style that can have a 'dummy' regulator installed in it.
He also found me an OE 3.3" Pulley for it.
He made the wire loom and supplied all connectors and instructions how to hook up the regulator. As shipped, its set to make 14.2 volts (and I verified that) I set it to 14.6.
Before I get to the test drive, you will have to make a simple bracket to secure the bottom mount, and its actually about 1/2" shorter than stock: (hole spacing is 1.625")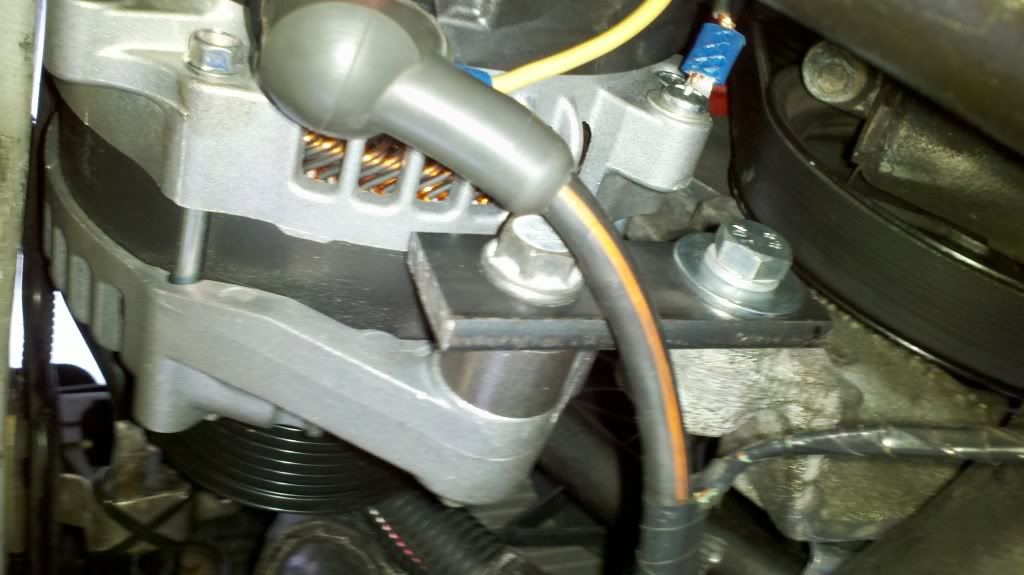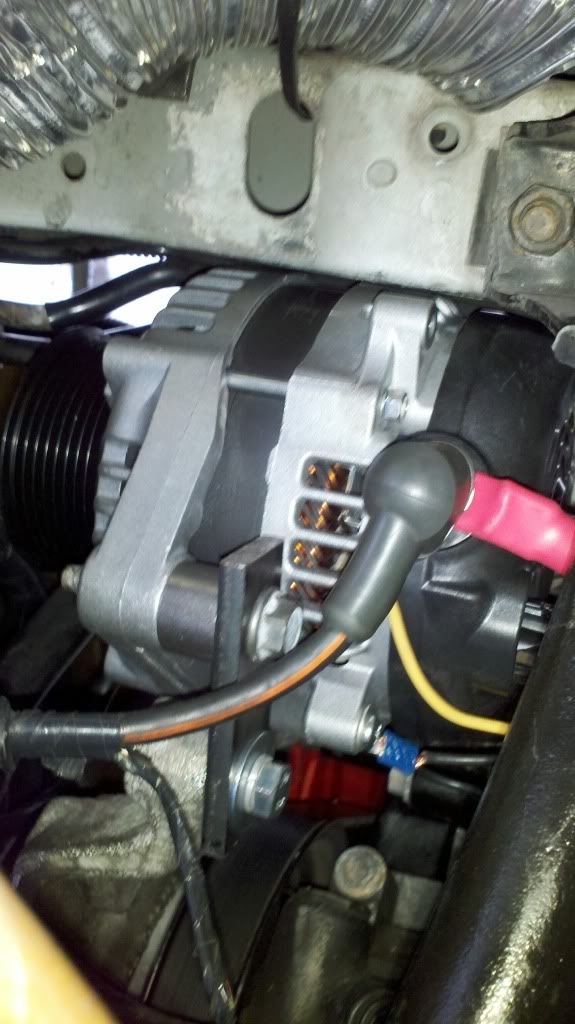 Here is a top pic. (Adam supplied the correct spacers to correctly position the alternator, since the top leg is much shorter)
The fololwing pic is not the final configuration. I made my own spacers thinking Adams measurements were off but in fact his were dead on.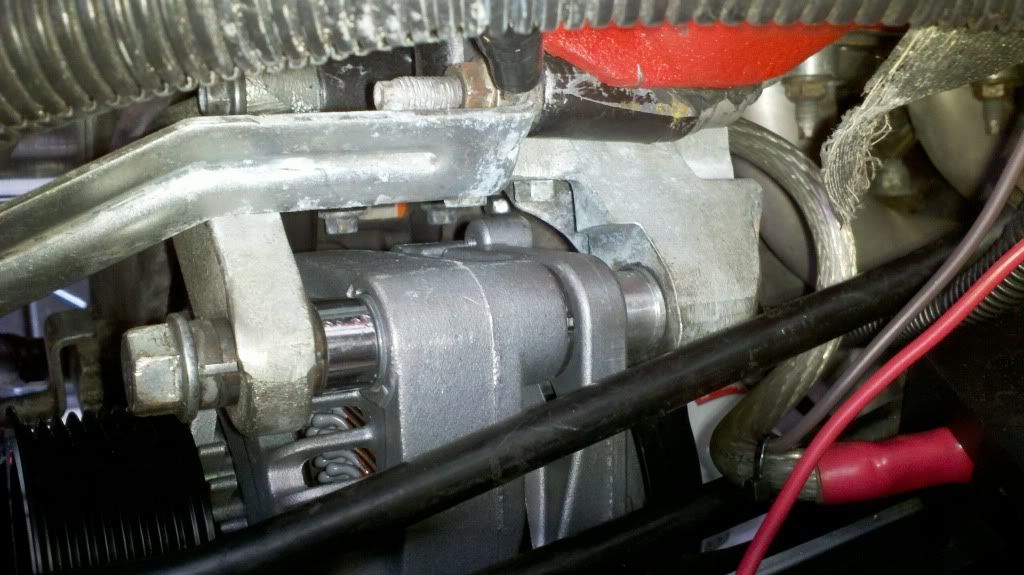 Now the good stuff....start up.
I **** you not I put a volt meter on it and it never budged from 14.6....not even when I revved it 4k+
Went out (86 degrees out) and drove it hard for about 20 minutes. IAT's got in the 150's, just to tell you how hot it was in the engine bay. Battery voltage was rock solid at 14.6, but the Aeroforce read 14.0-14.2
Here is where the dats gets interesting:
I had a meter on the battery I was monitoring. It never moved more than .1 volts no matter what the rpm.
The Aeroforce gauge however went to 13.6 on one WOT pull at 6k+ rpm's. AND this was with the headlights, fogs and AC on full blast!
The alternator works, and it works well. I wish I had weeks of testing to provide you, but I dont.
I do know that if i had a stocker on it, at those temps, the voltage would have dropped to 12.0 or lower on the Aeroforce.
In reference to the Aeroforce reading lower than the actual voltage measured at the battery, it makes me start to question the factory wiring as being a problem. (FYI my 3 pumps are run off a 6ga wire directly to the battery. I can rest easy knowing the pumps are getting full voltage.)
Since the majority of voltage problems happen at high RPM's, it makes me wonder if the Coil pack wiring is causing the MAJOR draw on the system???? Since they are activated with a negative pulse from the PCM, I am curious to see the results of wiring the coil packs off a heavy gauge wire and activated with a relay for each bank when they key is turned to ON. Id bet that would solve a lot of issues.
The alternator cost me $475, but I can finally put this problem to bed...for good.
Oh, almost forgot: You will actually need a LONGER belt when you install this.
I have a feeling Adam is gonna be a busy man come Monday, LOL
Nation Starter & Alternator,Tractor Auto,Marine,Truck,Small Engine
1-888-334-2632
I sure hope this helps others, as that was one of my original intents being the guniea pig.