Discussion Starter
•
#1
•
As discussed in the earlier thread -
Teksid Build
I picked up a Coyote crank, oil pump, rear cover, reluctor pick up. The reluctor wheel didn't show so I had to get one coming for tomorrow.
Not sure where to start so here's pics and some early observations.
First I installed the crank in a known good Romeo block I have.
Here is the Coyote pump. Everything bolts up including the guide.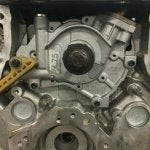 I have a Teksid build in the garage so here's the "stock" mod pump with the guide installed.
This showed me that the bosses are different heights.
Here I layed out the boss heights. You can see I did the same on the stock pump. But they where all .880.
This means that it would require either the pump or the guide would need to be machined.
Here you see the Coyote pump installed on the Teksid with a Modular crank. I installed a TFS gear to show the interference problem.
But the same gear on the Coyote crank with the Coyote pump fits nice.
Now on to the pump compare.
Here you see the pressure relief assembly is sealed with a press in plug on the new one making disassembly very difficult.
Here you see the internals. The new pump is a little smoother and should flow better inside.
Another thing is the output hole isn't cross drilled and plugged on the Coyote pump. They just use the cover to cover the passage.
Here's a question. Does all the modular pumps have the O ring for the output? This is a pump a friend got for his Teksid build.
Here are the gears. The modular ones on the right are steel aftermarket ones.
The dimensions on the modular is .510" thick and 3.268" OD. And Coyote are .558" thick and 3.502" OD.
Another question. Does anyone have a 3V pump to compare these dimensions? If it isn't bigger then what's the point.
That's it for tonight. Tomorrow I will move to the rear cover.
Discuss away!