Discussion Starter
·
#1
·
This is just currently a feeler ad. Im currently deployed and the pictures that i have are from before i left, the car is currently being repainted, (only because i bought a new hood and DSG is hard to match so the whole car was scuffed up to be painted and re-cleared) From the previous owner i was told the car had been in an accident during its first few thousand miles, but i have a clear title. I should have some pictures of the car with the new hood, and the greg weld drag set-up within the next week for sure. Hence this being a feeler, im not totally done with the ride. I really wanting to trade, as i dont want to get out of the car game in any kind of way, but I'm looking to head to korea soon and want to save money for a house when i get back. So with that said I would like $15k and a NICE coupe! nothing that needs paint please. Or I'll take $23k and find a coupe myself. Here's a small run-down and a few pictures I found from a previous post, The Govt Computers wont let you upload pics so i had to use something ive posted before until, i can get my brother to send me some picture links.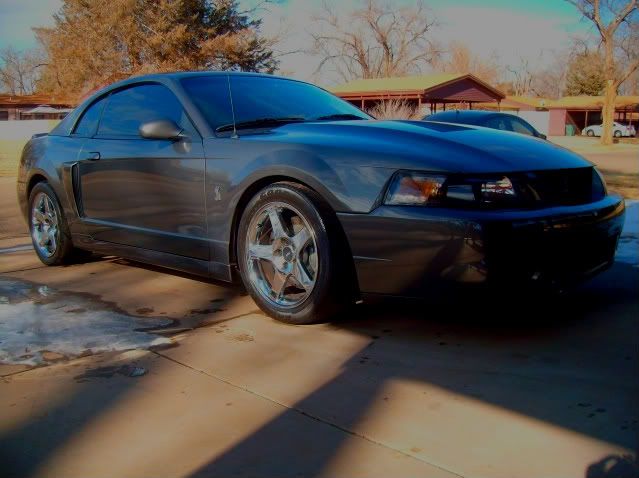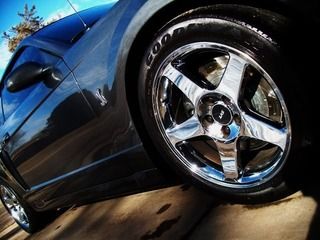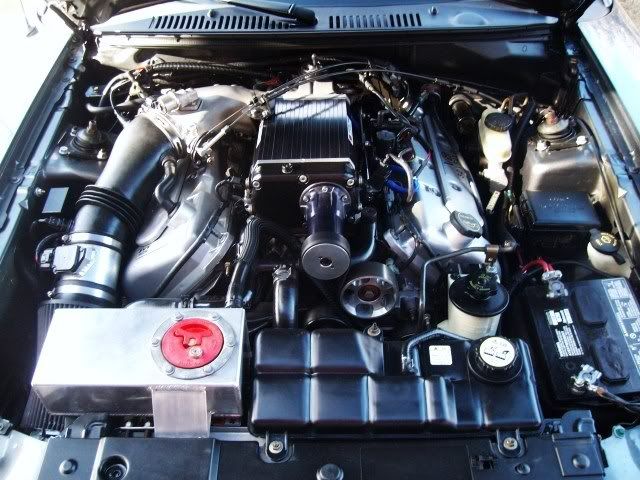 Engine:
- Stock long Block 44k mi.
- Kb 2.2 @ 19lbs (8k on blower)
- 3.0 upper
- 2lb lower (have 6lb, never been on car)
- 55lb injectors
- KB BAP dual gt pumps
- SCT BA3000 M.A.F
- Accufab SBTB
- Idler pulley system
- 2 step and WOTB
-flowmaster exhaust
Cooling:
-Trunk Mounted 5 gal cell for intercooler
-aftermarket heat exchanger
- Stock intake tube with 12" RAI filter (have BBK also, just like stock)
(have spare headlight with center cut out and hole reamed for "ram-air" affect without the look of no headlight, track use only)
Interior:
-Boost gauge, steering mount
-intercooler pump switch (cuts on as would stock, or for track you can manually turn on pump to cycle cold water)
-Stock front Cobra seats, great cond. (dont have 03 rear seat, will come with 99 cobra black leather rear seat, car was sold with a rear seat delete)
-2 step and WOTB mounted in Glove box.
Transmission:
-Stock t-56 6speed
-Fidanza aluminum Flywheel
-Spec stg 5 Clutch
-Only use synchromesh
-Steeda Tri-ax shifter
Suspension:
-Tubular K-Member QA1
-Drive shaft Saftey loop
-Upper and Lower control arms
-Subframe connectors
Rear-end:
8.8 with 31 spline axles
3.73 Gear ratio
summit hardend center piece.
Exterior:
Bolt-on 5" cowl hood
Greg weld 17x3.5 up front 15x10 Rear (BRAND NEW Hoosier 28x10.5's)
Either Stock Chromies, or 18" deep dish Black bullits as street set up (18x9/10's)
-Car has 5% window tint all the way around.
-DS front rotors
Car has been to dyno and only have numbers for up to 6000rpm. which it made 628/615. this was on 19lbs and 20deg timing, with Torco. car has never been to the track on this set up, I ran it on 17" Drag radials, when it made 540/506 and went
[email protected]
... so thats the fastest past currently, after car comes out of shop from paint, it will go to the track in the next 2 weeks or so, i would expect mid to low 10's with the power, and weight of the car.
Please keep the negativity to yourself, if your interested ill more than happily entertain your questions or concerns.
And I'll get better pictures ASAP!
Thanks for looking.
Car is also on SVTP... I know I dont have alot of popularity with this site, just trying to get the car out there...