Discussion Starter
·
#1
·
I just received an email from a member of the Corral asking about my fuel system. So, instead of answering his question via email, which makes using pictures as a reference difficult, I thought we could turn this into an interesting discussion on the inter-web. (It actually started as a thread over at
www.stangsofsouthflorida.com
. They're an up and coming site.)
So let's get started.
First, we'll start with the test mule, my 98 Cobra.
Here's a picture of the car from when I first bought it in 2003. In fact, when I bought it, it had roughly 42000 miles on it, a BBK CAI, PRO-M mass air meter, Superior 31 spline axles, and a PowerTrax locking differential that destroyed itself in less than 3000 miles.
I
The car now has 52000 miles on it, believe it or not.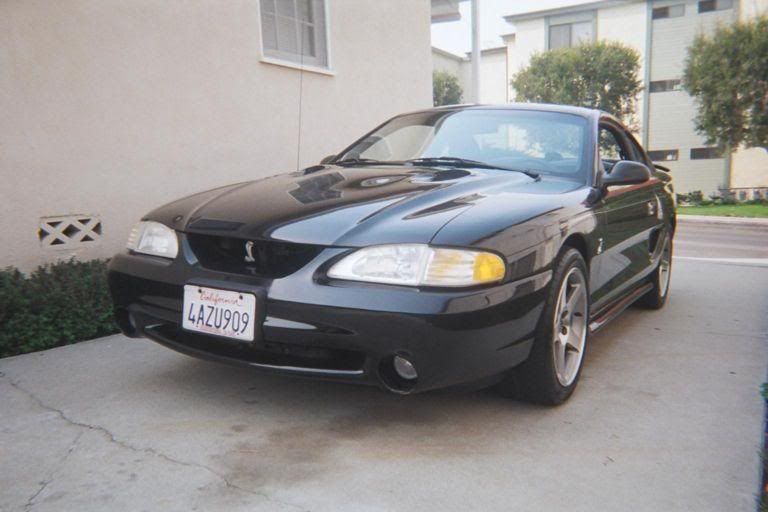 Now, because the car is a 98, it's got some challenges that make a fuel system different for the 98 than both the 97 and older cars, as well as different than that of the 99+ cars.
In 1998 Ford went to the "basket in a tub" system which, at least on paper, was a good idea. The technology behind it was pretty sound: put the fuel pump in a "basket" that was fed fuel and "always" kept full.
The way it was designed to work, in a stock car, was pure genius. Suck fuel from a low point in the tank and make it so the fuel pump was always submerged in fuel, even if the tank was low.
The problems started showing up when people wen to bigger than stock fuel pumps and lines. Suddenly, the basket became a limitation, since now you had a fuel pump that was capable of emptying the basket MUCH faster than the stock lines in the tank could refill it.
As you can imagine, that's bad.
So, being the creative souls we are, people (including myself) started hacking up the fuel baskets. This was a band-aid fix that uncovered an issue that caused a LOT of trouble for Walbro.
What people didn't realize was the fuel system in the 98's are a "hybrid" system. What that means to you cats and dogs out there is it's got a variable voltage fuel pump like the soon to be released in 1999 RETURNLESS fuel system.
This increases and/or decreases the voltage to the pump, thereby controlling both fuel pressure and fuel flow in the tank.
It's a great idea, except for the fact that very few people realized this was going on. We all assumed it was the same as every other mustang out there, and when you put a fuel pump in the tank that wasn't designed to be run with variable voltage, like 99% of the Walbro line, it killed the pumps with surprising quickness.
Personally, I killed a pump in less than 50 miles in a full tank. (crazy, I know.)
So, this leaves you three possible fixes:
Switch to a 97 tank and direct wire the fuel pump
Find the right fuel pump (Aviator, Focus, etc...)
Run a sumped and baffled tank and external fuel pumps
For me, I took the high road and picked up a
www.glennsperformance.com
sumped and baffled fuel tank and I'm running two external fuel pumps.(More on that later.)
One side benefit of this tank is it eliminates the need for a drop in style fuel pick up. You suck fuel directly out of the sump, which is always the lowest point in the tank.
This tank is designed with the driver in mind. I have been told you can run this tank to basically empty and not have fuel issues. While I don't recommend letting the fuel supply get that low in a boosted application, things happen. This design also means you don't have to worry as much about around town driving related fuel starvation like SOME tanks (older Aeromotive, for example) where the fuel can be as high as 1/4 of a tank remaining, but if you make a hard turn the fuel sloshes away from the pickup, causing a lean condition.
Now, the only real issue with that tank is that it's designed to be used with a 97 and older car. So, as you'll see in the photo below, the plug design is different from a 98 to a 97. This means you'll have to get our hands on the proper harness out of an older car and splice it into your 98+ harness to make the fuel level gauge work.
< 97 tank connection: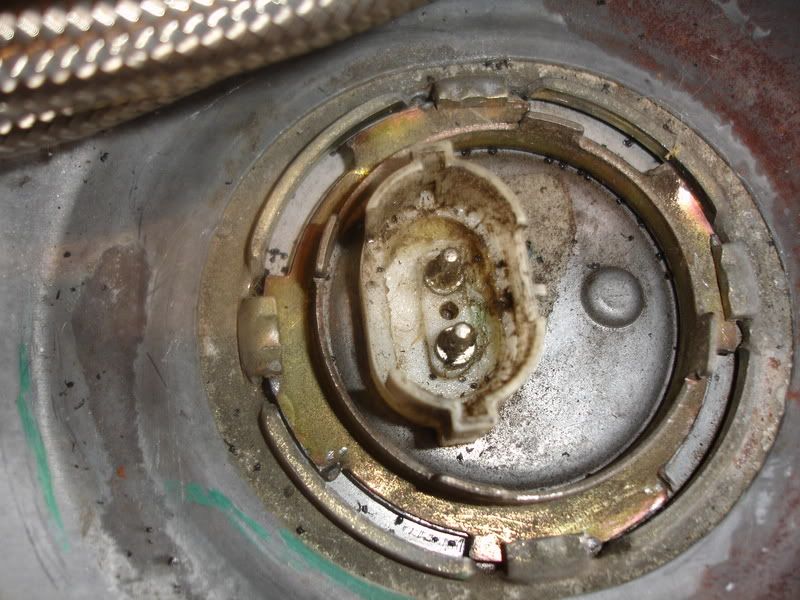 > 97 tank connection: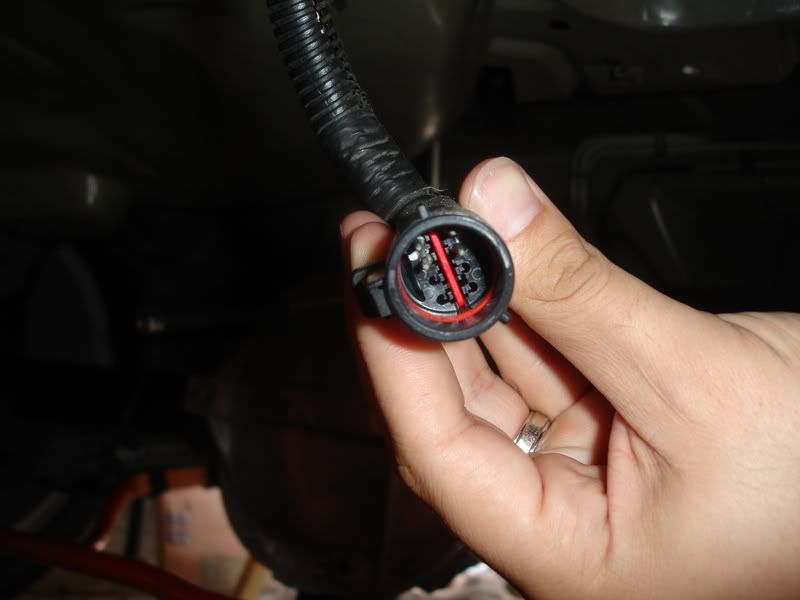 So, as you can see; this is a completely different setup. (It's an easy swap.)
One last thing: if you want to cause trouble for yourself in a modular powered SN95, go ahead and simply weld on a sump. They're cheap to buy and have welded on, but since there are no internal fuel controls (baffles, basically) inside the tank, you're going to have low fuel level starvation issues on not only hard turns, but I've seen it rear its ugly head even under hard braking and launch conditions. I've seen dozens, and they're hard to diagnose if you don't know what you're looking for.
So now you've got your fuel tank sorted out, what do we do about lines, rails, regulators, and the all important fuel pump?
Well, here's what I did, but please keep in mind that this is a fuel system for a twin 60mm turbo car with a built motor and ported heads. Your individual needs may vary, but this system will support upwards of 1000 RWHP.
Now, in addition to the tanks, you need to look at fuel pumps. For most people, it's pretty simple to go is with some sort of Ford pump. As I mentioned earlier, the Focus, Aviator, and Ford GT pumps have worked pretty well for quite a few people. The issue is once you climb past a certain point, even two of those pumps reach their limits.
I went straight to the top with this and I'm running two Bosch 984 fuel pumps. (they were SUPPOSED to be 044 pumps, which flow a little more, but my parts guy grabbed the wrong ones. No worries, as these should work just fine.)
Here's the part number: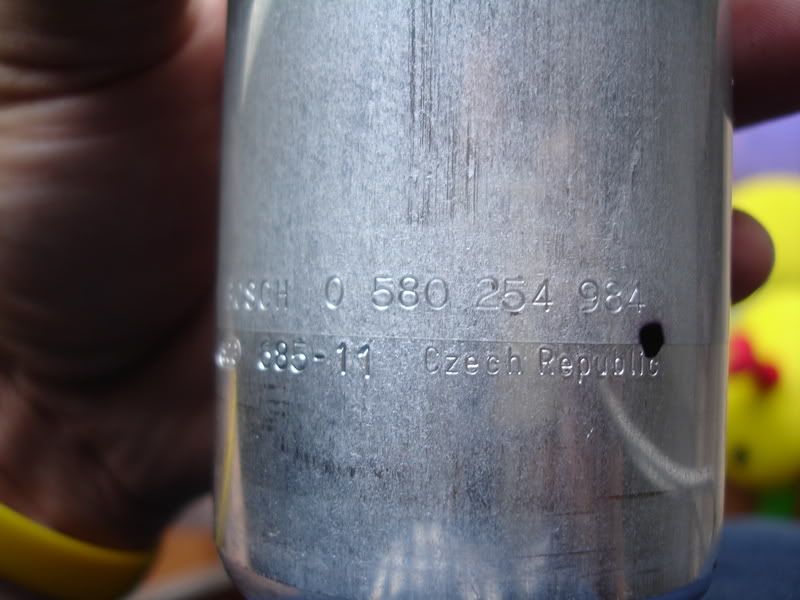 Here's a link to Bosch fuel pump flow, sizes, and amperage requirements.
http://www.lucasinjection.com/_borders/fuelpumps.pdf
.
So, in that document you'll see that the 984 flows 165 LPH (liters per hour), whereas the 044 is 200LPH. If I have any fuel issues at all, which I don't anticipate, I'll pick up the 044 pumps. They'll be a 3 minute swap given my current setup.
I digress.
Now, to give you an idea of how big these pumps are, here's a picture of my 984 pump next to the stock pump that came out of my Cobra.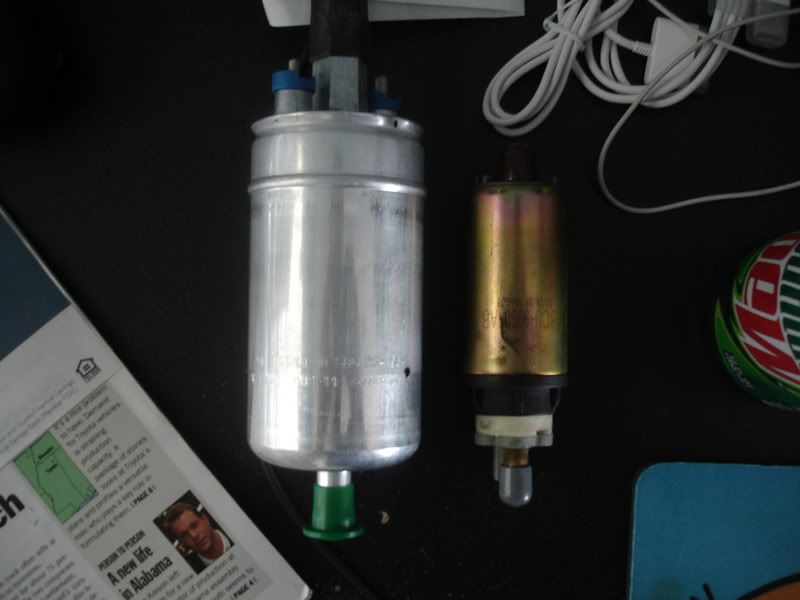 Now, to really drive home the point, here's a picture that should put these pumps into prospective.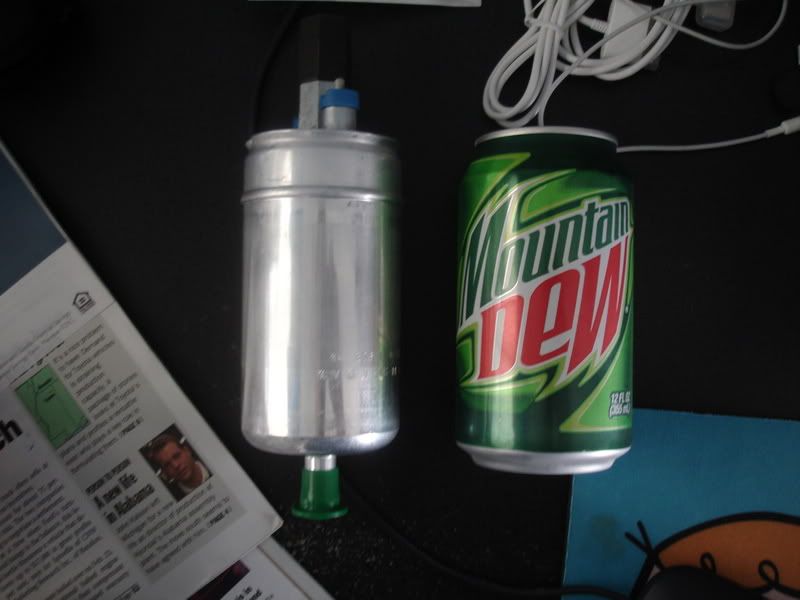 Yes. I'm running two of these pumps.
When it comes to wiring the actual pumps themselves, I recommend (and use personally) them being wired through individual 30 amp Relays from Painless. (Summitt sells them for 30 bucks.)
The reason you want to run them to individual relays is to decrease the likelihood of both pumps failing at once. By running them on a single relay and single power source you kill both pumps by tripping a single relay.
I'd like to have at least one pump to get me home, if possible.
Anyway, you can find them here:
http://store.summitracing.com/partdetail.asp?autofilter=1&part=PRF-50102&N=700+1003+115&autoview=sku
And here are installation instructions:
http://www.painlessperformance.com/webcatalog/plarge/50102.jpgwiring
When it comes to filters, I recommend an Aeromotive 100 micron and 10 micron.
Remember: 10 micron filter AFTER the pump and the 100 micron filter BEFORE the pump, otherwise you will starve the pump for fuel.
Aeromotive said:

Noting the appropriate flow directions, install the provided fuel filter, Aeromotive p/n 12301, on the fuel pump outlet
and the other fuel filter, Aeromotive p/n 12304, on the fuel pump inlet.
p/n 12301 = 10 micron
p/n 12304 = 100 micron
1-8:
http://www.aeromotiveinc.com/pdf/17141.pdf
So, once you have the pumps, lines, tank, and filters sorted out, here's what you end up with as a finished product:
No tank in the car:

Tank installed with pumps, filters, and lines: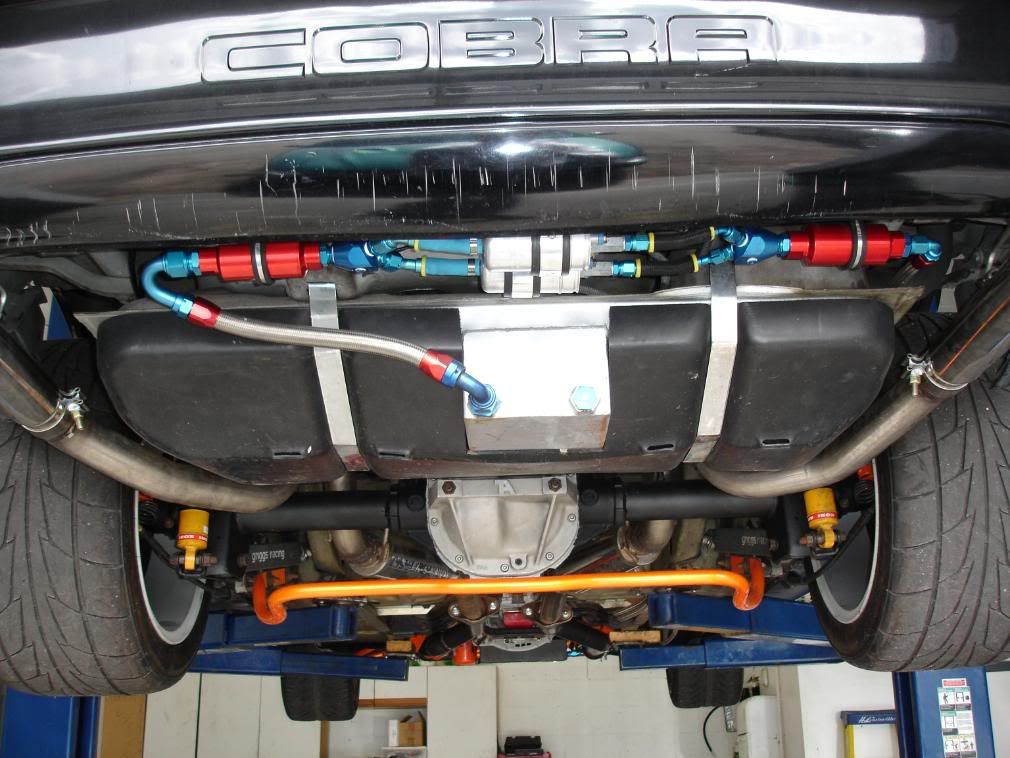 Close up: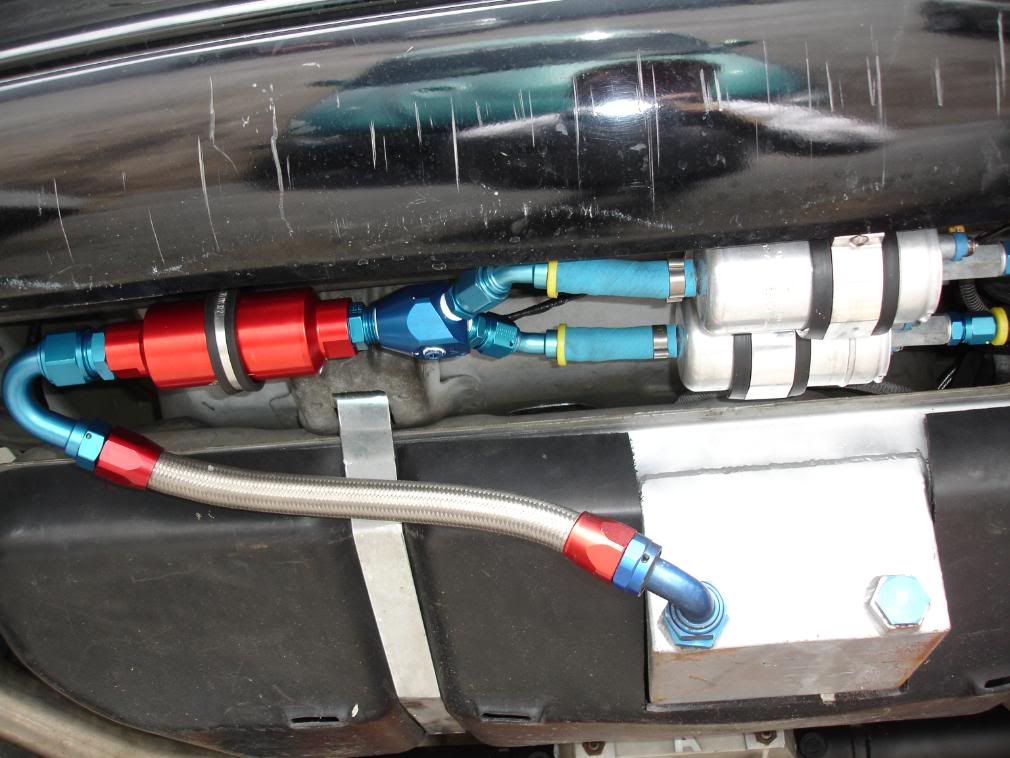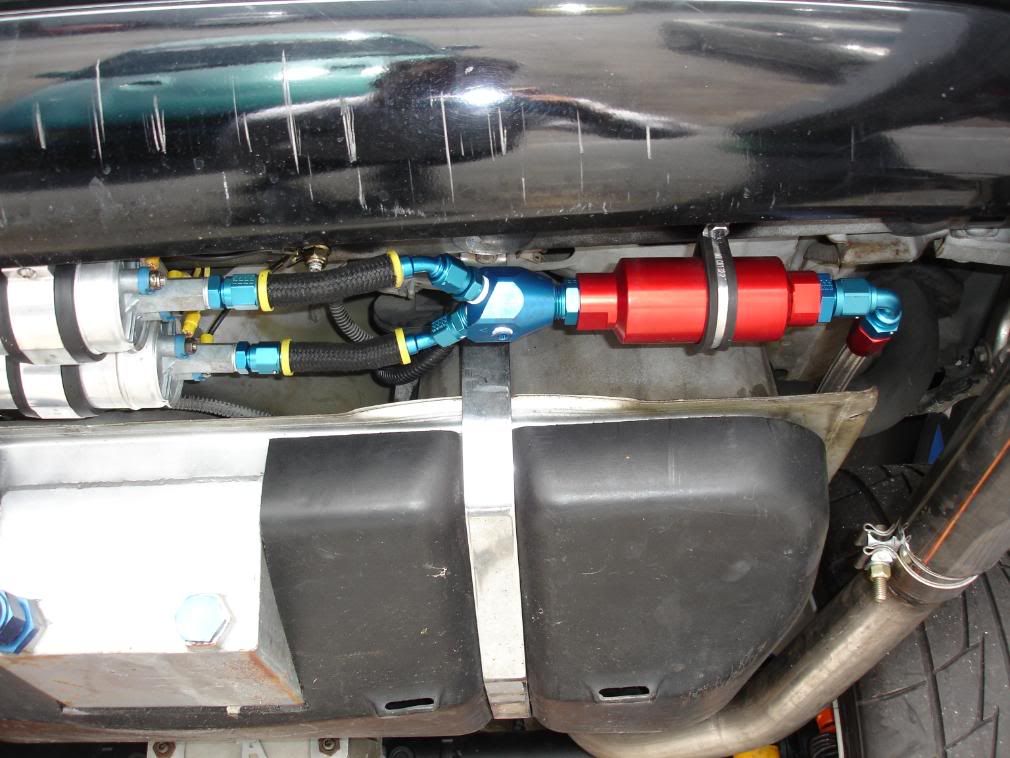 Here's what the car looks like from behind, on the ground.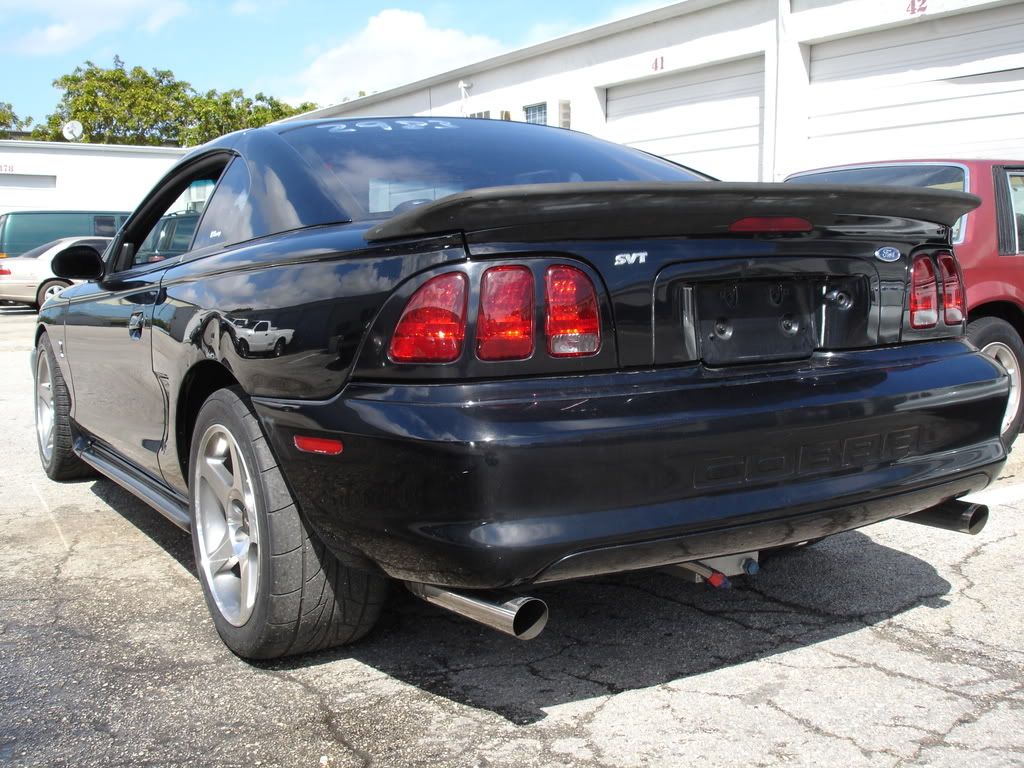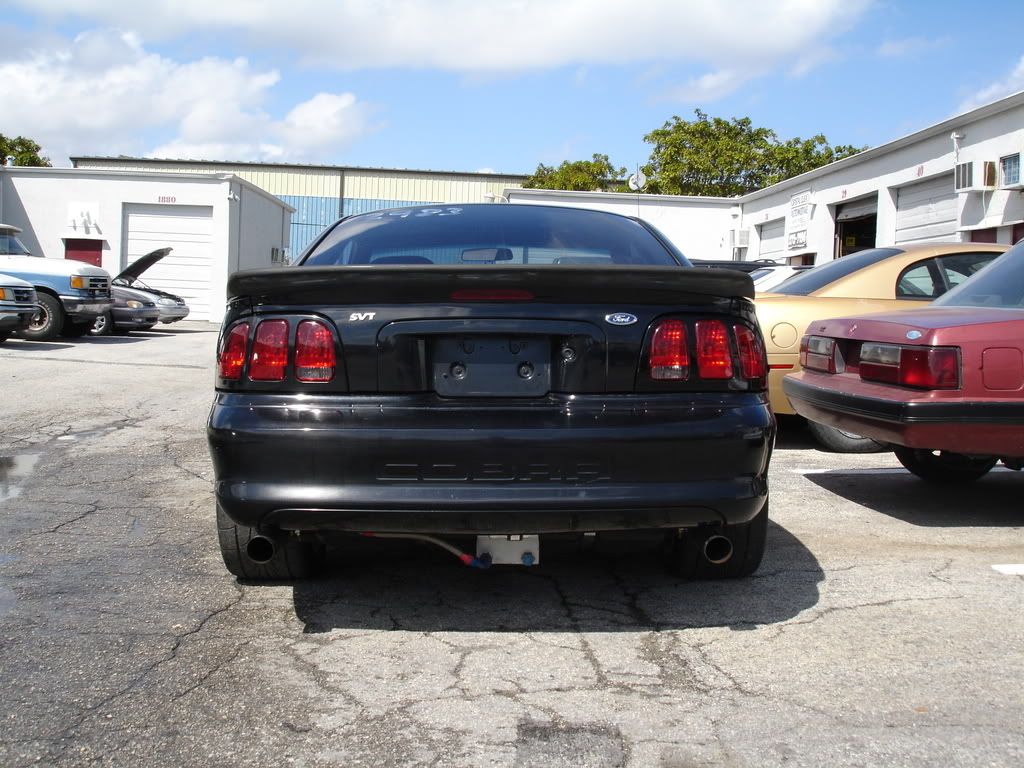 Now that you've got your pumps and filters figured out, you need to focus on the lines. I've got stainless braided hoses with A/N (which stands for Army/Navy) fittings from front to back.
Continued in next post because I exceeded the maximum 10000 characters. :hb