·
un1230/Whipple3.4/ Teksid
Discussion Starter
·
#1
·
I've decided to make it easier for everyone to find information in my build thread, I will do a type of glossary that will give post numbers of interest.
Let me know any suggestions to make it easier.
Table of Contents
& Links
http://www.mustang50magazine.com/techarticles/m5lp_0803_frpp_mustang_block/viewall.html
http://www.mustang50magazine.com/techarticles/m5lp_0809_big_bore_modular_build/viewall.html
Table of Contents Shortcuts
Crank Snout Mod-Post 27 & 45
4.6 Block vs Boss50 Block Comparison -Post 61 and up
Studding Oem Cams for Arp 1/2" studs-Post 151 and up
Cloyes Timing Gear Part#s-Post 168
Arp side bolt part#s-Post 205
Custom Hub for BHJ Damper-Post 225
3v windage tray and extra Arp hardware-Post 263
Oil Pan mod for windage tray-Post 264
Primary Tensioner Mod-Post 301
Correct Main bearings for Boss50 Block-Post 309 and on
Cometic Head Gasket #s .036- Post 332
Bearing Clearances and other info- Post 359 and on
As most of you know I had a #2 piston failure 3 weeks ago at a NMCA Event which has lead me to starting this thread. But before we discuss my new build, lets discuss what happen and why it may have happen. Sometimes things happen for a reason and we're better for it and sometimes they don't, its according to how you look at it. What happen to me was I was trying to counteract a weight issue and boost issue with nitrous and got caught up in my male testosterone (as Ed would say) I kept shooting bigger shots of nitrous along with doing it safely via the dyno rental sessions. But this last jet (.091) I purchased while in BG, I was trying to tune it in without the dyno and in the back of mind knew that my fuel octane was becoming in sufficient (vp100 Blaze unleaded oxygenated) but started ignoring my tunning side and just thought about more mph on the big end. So here's what I think was some the factors for what cause this>>>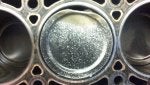 too high of timing for shot(18.50*)
Not enough octane
and too hot of plug
But theres one more interesting factor that I discovered while examining the piston, why after dropping the piston out of the cylinder didn't the rings fall off, they were loose in the grooves,but when I looked for the end gaps there were none to be found.>>>>>
[video]
http://s339.photobucket.com/albums/n446/mofasta/?action=view¤t=2011-10-29_12-47-39_276.mp4[/video]
As you seen like I did it was probably a 1 in a million chance of all 4 ring gaps lineing up at once under the severe loads that I was pushing on the motor at that given point and time. Call it the perfect storm or what you want, but it happen and by the rings doing that it gave the fire from the explosion somewhere else to escape before the exhaust valve, and in return acted like blow torch on the side of the piston as you seen. Eric(swervedriver),Ed and I have discussed this and Eric knows of this issue happening before which he may post,so if you ever have this happen or have had it happen check your ring gaps. By the way I check other pistons and they were all stagered to some degree from each other.
Now to the new build is going to be different block ( Modular 5.0L Ford Racing Cast Iron "Boss Block" Engine Block, M-6010-Boss50) >>>>>
1996-04 Mustang Modular 5.0L Ford Racing Cast Iron "Boss Block" Engine Block, M-6010-Boss50 at LRS - Same Day Shipping!
Which by the way Brian(Posi) and I have order from Steve at Tousley Ford and I purchased a fairly new 3.4 whipple Gen.2 with a 3.50 Reichard Racing Pulley from a person on modfords>>>>
Now I'm not going to go through every step as Tony did because you have that information at hand,but I will list the blueprint specs of my motor and special mods to it that others have not done and along with Ed and others point out why we are doing them. I will be going with some custom pistons that are just like the stock 4.6's for the big bore 5.0 plus be doing some special degreeing of the stock cams for better fill of cylinders which Ed can chime in on. Also there will be mod to the snout of the crank we'll be doing also if it checks out to have no cracks, so stay tuned for a long winter build.